SunRize Marketing is a Leader in Mass Tort Lead Generation for Law Firms.
At SunRize Marketing, we are proud to be leaders in mass tort marketing and mass tort lead generation. Our digital marketing team for law firms is committed to helping our clients sign more qualified mass tort claimants for a lower spend. If you have any questions about our mass tort marketing services for lawyers and law firms, please contact us today.
Lead Generation is Key for Law Firms -
Especially Mass Tort Attorneys
Lead generation is critically important for lawyers and law firms—and there is no practice area where that is more true than mass torts and class action lawsuits. Proactive lead generation strategies not only ensure a steady stream of cases but also highlight the attorney's expertise in complex matters. By effectively harnessing the power of lead generation, mass tort attorneys can stand out in an ultra-competitive market.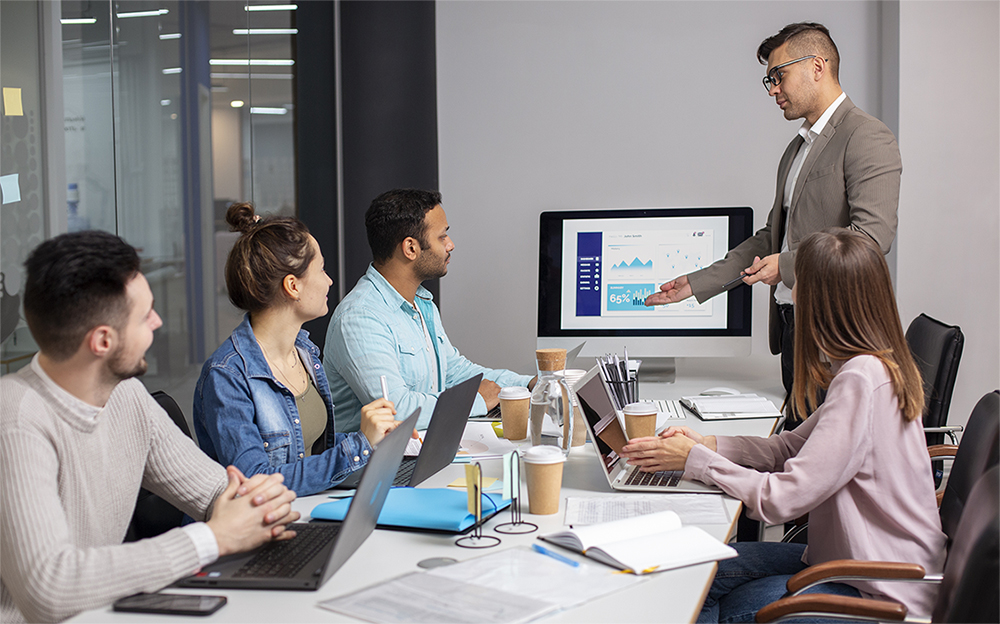 Google is the Foundation for
Mass Tort Marketing Law Firms
Google is where your prospective clients go when looking for information about attorneys—or anything, for that matter.
For lawyers, using Google Ads to run digital marketing campaigns is the quickest way to convert searchers into clients who generate profits. However, in this highly competitive digital marketing space, it is essential to have an expert manage your campaign. Otherwise, you may end up wasting your valuable advertising budget on strategies that may not yield the desired results.
For the very best results, you need a company that can not only harness the power of Google Ads but can also provide results specifically for law firms.
Why Choose SunRize Marketing for
Mass Tort Lead Generation?
SunRize Marketing is a digital marketing services company exclusively for law firms. We help busy legal professionals build a thriving online presence across all digital channels, including the web, search engines, and social media—driving conversions, generating new leads, and getting you new clients.
We use the power of Google Ads to get in front of the people who most likely need your services or are most likely to use your services.
We do this by creating engaging ads with powerful text and images and then targeting the keywords that matter most in order to find your most qualified potential clients.
In fact, our specialties and expertise in the mass tort and personal injury fields give us particular insight into creating ads that generate qualified leads with high conversion rates.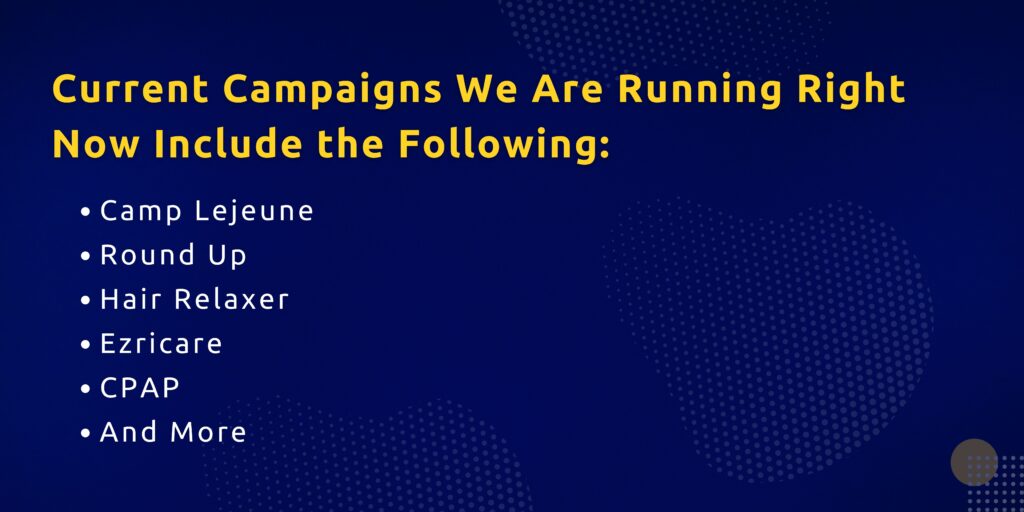 An Overview of Our Process for
Mass Tort Marketing
Lawyers and law firms need to be able to focus on what they do best—practice the law. We know that mass tort cases are complicated. Our digital marketing team is here to help you develop a mass tort marketing strategy, generate more leads, and convert more qualified claims. A successful marketing campaign for mass torts requires a well-designed, narrowly tailored approach. Here is an overview of our process for mass tort marketing:
Proactively Identify Target Cases
The foundation of a successful mass tort campaign starts with identifying the right cases. With our resources and expertise, we do not merely wait for an opportunity to arise. Instead, we proactively scour the landscape, leveraging cutting-edge research tools to pinpoint potential mass tort cases as early as possible. A forward-thinking approach ensures that you get ahead of other firms—enabling your law firm to establish a commanding presence in the market before it becomes saturated.
Develop an Advertising Strategy
Once we help our clients identify potential mass tort cases, the next step is crafting a compelling advertising strategy. We understand the nuances of communicating intricate legal concepts to potential plaintiffs. Accordingly, we develop tailored messages that resonate with the affected individuals, ensuring that they not only understand their rights but are also compelled to seek your legal expertise. Our strategies are not cookie-cutter, as a personalized approach is a must. We are meticulously designed to echo the unique voice of your firm.
Implement a Data-Driven Media Buy
The landscape of digital advertising is vast and continuously evolving. A scattergun approach can waste valuable resources and deliver mediocre results. We emphasize cost-effective lead generation by leveraging data-driven insights to make informed media buying decisions. By analyzing trends and campaign metrics, we ensure that every dollar you invest is maximized for the highest returns.
Consistent Analysis of Campaigns
Mass tort marketing is an ongoing process. As part of our commitment to excellence, we continually monitor and analyze the performance of your mass tort marketing campaigns. It is about a lot more than crunching the numbers—it is about deriving actionable insights. If a strategy is working, we amplify it. If something is not delivering as expected, we are ready to pivot. Your law firm's mass tort marketing campaign will always remain agile, efficient, and, most importantly, successful.
A Comprehensive Plan is a Must: Conversion of Leads in
Mass Tort Cases
Lead generation is essential for law firms handling mass tort cases. That being said, lead generation is not sufficient to deliver results. A lead that does not convert is not of much value to lawyers or law firms. At SunRize Marketing, we provide a full range of digital marketing services designed to not only help our clients generate more leads in mass tort cases but to also drive organic traffic and—most importantly—lead to conversion. Our goal is to help lawyers and law firms sign more qualified claimants in mass tort cases. Our mass tort marketing services include:
Get Help With Mass Tort
Marketing Today
At SunRize Marketing, we are the one-stop shop for digital marketing for law firms. Our team has extensive experience helping clients develop and implement cost-effective mass tort marketing campaigns. Contact us today to learn more about what we can do for your law firm. We provide mass tort marketing and mass tort lead generation services to lawyers and law firms nationwide.